Rent Coupons
About the File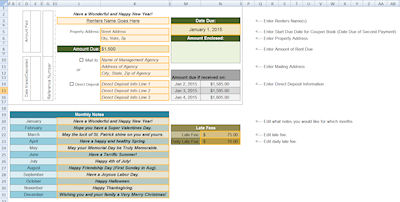 The Rent Coupon Book will create one years worth of rent coupons to give to your renters. It has proven to be a useful tool to help renters to remember to pay their rent on time. And since the coupon book calculates out the penalty of paying late, it encourages there timely payments. It is extremely customizable to your particular property and renter. Easy to use and intuitive, it can be quickly adjusted every time you need to use it.
The instructions are included in the file, but it is so easy to use and so useful to landlords of all types, that you most likely will never need to use it.
Note: This workbook is a Microsoft Excel Workbook. You must have a valid version of Microsoft Excel installed on you computer system to utilize this workbook.
Frequently Asked Questions
Q: What currency does this workbook calculate in?
"This thing is GREAT! My Renters have decreased their late payments by about 75% and if they are a day or two late, they are now automatically including the late fees. Love it. Thanks so much."
A: The currency currently used in this workbook is calculated in US Dollars. We currently do not have any plans in changing this unless we receive multiple requests.
Q: How Long does this workbook last?
A: This workbook with print out coupons for a 12 month time period. If the lease is longer, reenter the date for a second year and print out more coupons.
Q: Do I need to have Excel Installed on my computer to utilize this Workbook?
A: Yes. Microsoft Excel is the application designed to utilize this workbook and you must have it already installed on your computer to utilize the workbook properly.
Q: Why do I need to keep a blank copy of this workbook in another location?
A: It is always a good idea to keep a blank copy of any workbook in case you need it. Otherwise, you may have to purchase this workbook all over again.
Q: The cells in my workbook are no longer calculating and some even have errors. What can I do?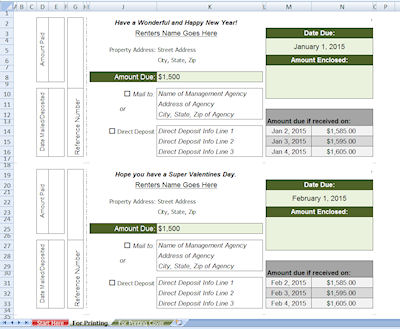 A: This usually happens when the automatic calculations radio button has been turned off in your Excel Options window. View the Excel Help Files to turn this feature back on.
Instructions
Click here for the Rent Coupons Instruction Manual.
Note: You must have adobe reader installed to view this document. If you do not have adobe reader installed, click here.